StriVectin Facial Resurfacing Serum
By Jessica, March 12, 2013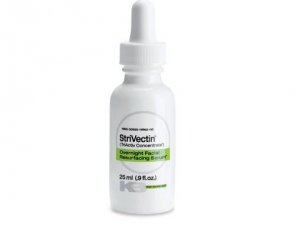 StriVectin began in products for the treatment of stretch marks, and developed into a clinical anti-ageing range one cult following later. Products face extensive scientific research and testing before being released and contain a number of patented anti-ageing ingredients.
StriVectin Overnight Facial Resurfacing Serum
The StriVectin serum comes in a very medical-looking dispenser in a very medical-looking box – nothing pretty about it. And I was more than a little concerned by the whole 'resurfacing' thing. Of course skin can be gritty and uneven, but asphalt it is not.
Nevertheless, I was intrigued by its promise to reduce surface signs of ageing, remove dull flakes, smooth skin's texture, diminish pores and wrinkles, and improve luminosity. The secret is apparently in the chemical exfoliants. They're far less abrasive than physical counterparts, making the serum suitable for even sensitive skin types. So no pothole pores necessary.
Directions are to massage a few drops into the face, leave for three minutes, apply a moisturiser and go to bed. It goes on nice and gooey and absorbs in no time, leaving hands pretty sticky but skin on the face feeling as though it's shrinking and tightening instantaneously. The next morning, skin was still feeling smoother than usual but in a far tauter way than is achieved with an exfoliator.
Aside from a very slight drying effect, facial lumps and bumps are definitely smoothed with this serum. Great for dull and uneven skin, StriVectin products are available from Arnotts and Space NK in Harvey Nichols. The Overnight Facial Resurfacing Serum is €59.