StriVectin
By Jessica, January 29, 2013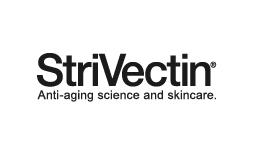 StriVectin is a highly scientific skincare brand based on the principle of rigorous clinical validation. Beginning in 2002 as a stretch mark treatment, the brand has expanded to a range of intensive anti-ageing products.
All formulations in the StriVectin range are based around one patented molecule: NIA-114, or Niacin. The molecule is said to have been discovered during skin cancer research as a method of rebuilding the skin barrier, and forms an integral part of the brand's anti-ageing approach.
Products address four skin ageing concerns specifically: wrinkles, loss of firmness, age spots and skin damage. The line is relatively small, comprising of less than 20 individual products to date, and addresses ageing exclusively rather than traditional skin types.
Choose from targeted treatments for the face, eyes, neck, body and hands, with cleansers, scrubs and serums all available. The vast majority of products, however, are made up of concentrated creams and lotions aimed at lifting, tightening and erasing unwanted lines.
StriVectin also has a philanthropic branch – The StriVectin Foundation – which supports 'Women who Live to Give'. They donate to non-profit charitable organisations that work with nurses, teachers and other women of service to boost appreciation of their vocations and the work that they do.
StriVectin products are available in Arnotts and Harvey Nichols in Dublin and select other stockists nationwide.