Spa Find
By Jessica, February 10, 2010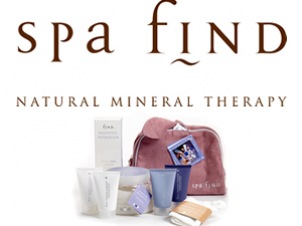 Spa Find products and treatments are based on the idea that nearly all skin complaints are the result of a vitamin or mineral imbalance.  They aim to normalise these imbalances by utilising the minerals of the Dead Sea.
Exclusive to spas, health farms and beauty clinics worldwide, Spa Find products use a blend of de-ionised water, pure Dead Sea minerals and organic plant extracts to create natural mineral treatments and products.  All products are free from parabens, genetically modified organisms and animal ingredients and testing.
As well as products aimed at different skin conditions, they provide a huge array of muds, exfoliators, cellulite and bust treatments and anti-aging products for eyes.  These consist of… (ready?) muds, masks, peels, scrubs, gels, lotions, oils, salts, shampoo, scalp conditioners, exfoliators, cleansers, sprays, washes… the list is endless.  And if that's not enough, they also have a range of gift sets presented in delicately coloured, butterfly adorned bags.
Spa treatments are just as extensive.  We'll spare you the even longer list, but there's a choice of treatments for hands & feet, slimming & contouring, and massages and facials that involve the use of hot stones and poultices.  If, understandably, you can't pick just one treatment, they also run a 2 in 1 offer which combines a massage and a facial in one session.
Sister brand to Spa Find is Dead Sea Magik.  With a similar concept, they provide spa-type products for use at home.  You can find them in health stores around the country.
Find your own Spa Find at Escape spas in Counties Limerick and Clare; Angel Face Beauty Clinic, Co. Cork; Younique Health Spa, Co. Armagh; You-Time at The Maritime, Co. Cork; The Annex Clinic & Day Spa, Co. Wicklow; Marrons Beauty Clinic, Co. Kildare; Osprey Spa, Co. Kildare; Mount Juliet Spa, Co. Kilkenny; Coolbawn Quay Spa, Co. Tipperary; Shelly's Health & Beauty, Galway; and Annaghdown Seaweed Spa, Co. Galway.