Snowberry Nourishing Exfoliator
By Jessica, March 9, 2011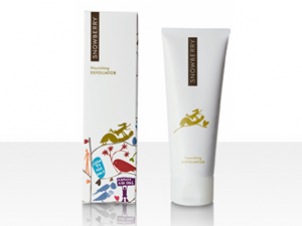 Snowberry is a New Zealand skincare brand with a keen focus on quality ingredients. Products are free from every skincare nasty you can imagine, as well as all the unnecessary fillers and cheap ingredients so commonly used in cosmetics. Unique and unusual ingredients are taken from the New Zealand environment and combined with their very own scientific delivery methods to ensure they reach the deepest levels of the skin.
Nourishing Exfoliator
The Nourishing Exfoliator is made up of exotic oils, herbal extracts, jojoba, and apparently even precious gems, cultured coral and pearl. It claims to safely remove dead skin tissue leaving the skin feeling smooth and alive.
Before I get in to any of the important stuff – this is possibly the most gorgeous packaging ever to have crossed the Spas.ie desk. Like all Snowberry products, the exfoliator comes in a box squiggled with colourful figures and life-affirming messages that I would normally scoff at. But I love it. And yes, I am aware it has no bearing on its effectiveness as a product, but who doesn't love little pink and blue people beaming happiness from their bathroom shelf?
Anyway, back to the exfoliator. Claiming to have re-hydrating, cellular growth-stimulating and wrinkle-reducing properties, it doesn't sell itself short. Nourishing Exfoliator to me is nearly a contradiction in terms as exfoliation usually leaves my skin feeling stripped and dry – but this is where this product truly excels.
Its consistency is buttery-rich with far larger than normal exfoliating beads. The result is skin that does feel smooth and scrubbed, but also like it has been soaked with a really rich moisturiser. There is no feeling of dryness, tightness or discomfort, just silky smooth skin that could easily forgo moisturising.
I'd highly recommended this for dry, sensitive or exfoliator-reluctant types. The rest of the Snowberry range goes up to and beyond €100 for some of the moisturisers – all excellent products and the serums in particular are fantastic – but the exfoliator was by far the stand out product for me, and one of their cheapest at €35 for 75ml. Snowberry products are available from Harvey Nichols in Dundrum.