Snowberry
By Jessica, February 18, 2011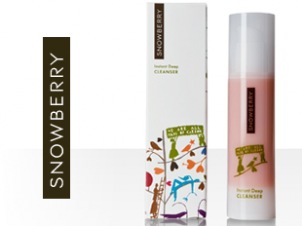 Snowberry is a high-end skincare range from New Zealand that combines active ingredients from nature with carefully researched scientific delivery methods.
The line was born out of a desire to create skincare products that were pure but active. An ethos was adapted to ensure that there would be no compromises between functionality and safety, or between optimum quantities of premium ingredients and costs.
The use of petrochemicals, silicones, synthetic colours and fragrances, glycols, lauryl sulphates, harmful alcohols and parabens is said to be inconsistent with the Snowberry philosophy and so they are never used. All ingredients are sourced in a way that sustains the environment and Snowberry has received a rare Carbon Neutral certification for its products.
At the same time, Snowberry refrains from false claims of being 100% Natural. Instead, great care is taken to use the best of science and clinical discoveries, but without the harmful components.
The scientist behind it all claims expertise in designing delivery systems for hard-to-absorb materials. This means products are created in a way that ensures the active ingredients reach down to the sub cellular layers of the skin – an essential element of anti-ageing treatments.
The range is divided up into cleansing and toning products and two anti-ageing lines – Pro-Collagen and Brightening. We are one of just seven countries Snowberry products are available in, you can find them in Harvey Nichols in Dublin.