Sans Soucis Deep Moist Depot
By Jessica, October 10, 2011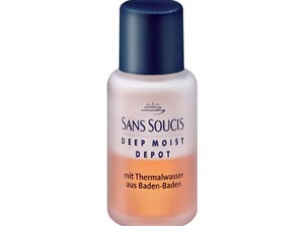 Sans Soucis' Deep Moist Depot is based on the premise that beautiful skin is skin with optimal moisture content. They say this moisture level can be as high as 80% in youthful skin, but begins to decline as early as the age of 25. With this loss of moisture comes a loss of elasticity, vitality and radiance which can only be restored through deep hydration.
Sans Soucis Deep Moist Depot
The most striking aspect of this product is its strangely divided appearance. An oil in two different peachy shades, it is free from the binding agents which are so commonly used in cosmetic products. Designed to prevent products separating, binding agents are chemical additives which are generally unnecessary save for appearance's sake. Their absence in the Deep Moist Depot means skin only receives the beneficial ingredients in their pure form.
When left to settle, the emulsion forms two clear levels reflective of the 'two phase moisture concentrate' behind this product. The first phase is said to be the rapid absorption of mineral-rich algae extract and hyaluronic acid into the deeper levels of the skin. Vitamin E and an organic silicon then work to fight free radicals, retain moisture and firm facial contours.
This one really means it when it says shake well before use, with a vigorous mixing needed to properly blend the two parts. The oil smells lightly of almond and is rich and luxurious in consistency. Skin soaks it up unexpectedly well, leaving no greasy residue or feeling of heaviness. As a long-time sufferer of dry skin, I didn't even require the follow-up moisturiser suggested for those of a particularly moisture-depleted disposition.
Not surprisingly the brand's bestseller, this oil manages to combine a pampering experience with tangible results. The increased level of moisture is said to be maintained for twelve hours after use, and with twice daily applications can dramatically improve skin hydration within two weeks. Definitely worth a try at €30.50 for 30ml, from pharmacies nationwide.