REN Keep Young & Beautiful Serum
By Jessica, October 24, 2011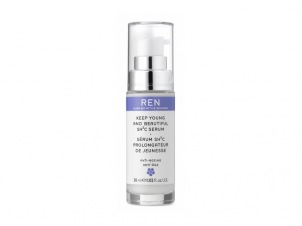 REN is a 'clean bio active' skincare line with a focus on effective, enjoyable products that are free from all skincare irritants and problematic ingredients. Their serums are designed to be used alongside a moisturiser to repair and restore the skin.
REN Keep Young and Beautiful SH²C Serum
This REN serum contains, among other bio active ingredients, Vitamin C, a number of peptides and yeast extract to encourage skin renewal. The flattering product name isn't just making the very kind assumption that you're already young and beautiful, it's actually an indicator of its preventative anti-ageing approach more so that turn-back time results.
Applied under a moisturiser for your specific skin type, it promises to tackle the first signs of ageing and boost radiance. The scientific blend of skin-kind ingredients is said to reduce and prevent the appearance of fine lines and wrinkles, even out skin tone, boost radiance and give a little plump, firm and lift here and there.
The serum is light in consistency and smells just a little bit funny as a result of being synthetic fragrance-free. However both the serum and scent sink in instantly on application and skin feels immediately tightened and lifted. A dash of moisturiser and the skin's surface feels relaxed again, but the sensation of the serum's workings is still noticeable.
An excellent base for moisturiser, this slips seamlessly into any skincare routine for instant firming without causing a disturbance to other products. REN products are available from Arnotts in Dublin and select pharmacies and salons nationwide. The serum is €60 for 30ml.