Oskia Get Up & Glow
By Jessica, May 22, 2012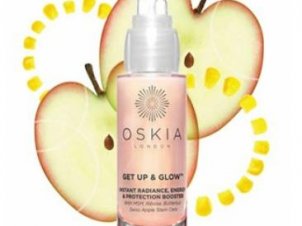 Oskia is a nutritional skincare brand created to fight premature ageing. Using natural ingredients and essential cell nutrients, skin is nourished from the inside out to rebuild cell health and efficiency. All products in the range contain a collagen-boosting complex combined with botanical, mineral and marine bio-actives.
Oskia Get Up & Glow Serum
Oskia's Get Up & Glow serum is a 'radiance, energy and protection booster' designed to even and brighten skin tone, smooth fine lines, protect from environmental damage and improve cell health in the long term.
The formulation is extremely iridescent, and by all appearances looks more like a highlighter than anything else. Directions for use are to apply all over the face and neck either alone or, rather unusually for a serum, after a moisturiser. It can also apparently be used in place of a daily moisturiser or on top of make-up for an instant radiance boost.
Used alone, it sinks into the skin surprisingly well. The serum is incredibly shiny in the bottle and a little off-putting in this regard, but the intense mother of pearl sheen thankfully doesn't materialise on the skin. Over moisturiser, it retains a little more shine, and over make-up gives a nice dewy appearance across facial contours. Overall, a subtle but effective giver of glow.
How the impressive ingredient list of Swiss apple stem cells, milk peptides, antioxidants and hyaluronic acid works on the skin when applied over make-up is a little unclear. With serums usually being an additional boost to the skin prior to using other products, this could easily be mistaken for a highlighter. But if you're looking for a two-in-one skincare and make-up product, Oskia's get Up & Glow is ideal. Available from www.oskiaskincare.com for £64.50 (around €70) for 30ml.