Oskia
By Jessica, February 15, 2012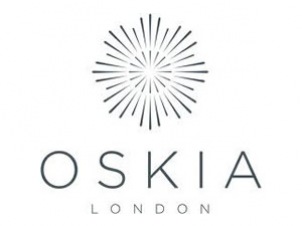 Oskia is a natural, high-performance skincare line. The driving force behind the products is real, visible results, with natural and organic ingredients used for their scientifically-proven, high-end effects.
Oskia products are designed to fight premature ageing by supplying skin with essential cell nutrients. All products contain the brand's unique MSM-Regen Complex, which naturally boosts collagen and repairs and regenerates cells, combined with selected botanical, mineral and marine bio-actives.
The name from the brand comes from the Ancient Greek term for 'delivering nutrients' or 'beauty'. The products were developed by nutritionists and cosmetic scientists, with the belief that the skin needs both internal nutrition and external treatment to remain in optimum condition. The Oskia website offers a range of skin-enhancing recipes they recommend to accompany their products.
On offer is a range of serums, creams and supplements to nourish skin both from the inside out and the outside in. Among the small selection of skincare products you will find a cleanser, a radiance boosting serum, an eye cream, day and night creams, an exfoliating balm and a face mask.
Oskia products contain 98% natural or nature-identical ingredients, with the remaining 2% being Ecocert-approved preservatives. Products are organic as far as is possible without sacrificing efficacy, and are free from artificial colours and fragrances, sulphates, propylene glycol, petrochemicals, phthalates, silicones, DEA, TEA and parabens.
Oskia products are available from www.oskiaskincare.com.