Ole Henriksen's Apricot Cleansing Lotion
By Jessica, October 8, 2010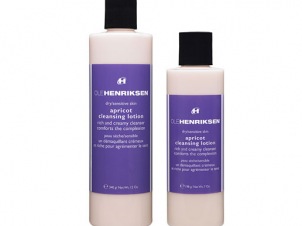 I love winter, there's nothing better than watching the rain from somewhere cosy, but it can be a nightmare on your skin, and no one wants to pair their winter wardrobe with a blotchy or puffy face.
I tried Ole Henriksen's Apricot Cleansing Lotion as it's designed especially for dry and sensitive skin, something that a lot of Irish people have to deal with and isn't helped by our confused weather.
The cream is really gentle and soothing and glides easily onto skin. It removed all of my make-up and cleaned my skin really well leaving it feeling refreshed. It's also is packed with natural oils which are calming on the most sensitive of skin and won't irritate eczema.
It's a good product if you are in the city or exposed to a lot of smog because it's supposed to replace the skin's natural barrier, which a lot of facial products claim to do, but this did really leave my skin feeling hydrated and glowing. It's also 100% water soluble, it rinses off easily. No more fighting with your mascara after a long day at work.
Good for: Young skin, normal and sensitive skin.
Price range: €29 for 207ml through Spirit One's website