ÓG Ireland Peat Face and Body Mask
By Jessica, April 25, 2011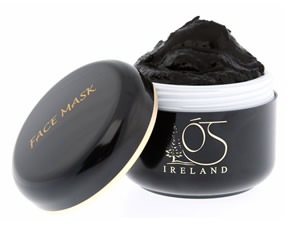 ÓG Ireland uses Irish peat as the key ingredient in their skincare products. This mask is their hero product and is designed for healing various skin conditions as well as having a deep cleansing part in a weekly skincare routine.
ÓG Ireland Peat Face and Body Mask
This product is exactly what it says on the rather old-fashioned black tub – a little pot of peat. I don't know if I was expecting something more recognisable as a skincare product within, but I was a little taken aback to find what looked like a mound of wet mud scooped out of someone's back garden.
On it went anyway, the consistency, well, peat-like for want of a better description. Cold and thick with some slightly gritty bits. It was pleasantly cooling on the skin, and didn't cause any of the uncomfortable tingling mentioned on the packaging. It's not until towards the end of the instructed 10 minutes that the mask starts to dry out and cause some tightness.
The muddy layer is then rinsed off with warm water – and this is where the mess begins. Washing this stuff off destroyed the sink, leaving mucky water splattered all over every conceivable bathroom surface nearby. Cursing the stuff, I scrubbed away with a muslin cloth (which also went black) and swore I would never wreak such trauma on my porcelains again.
You can imagine my dismay then, to discover how lovely this made my skin look and feel. Soft and clean to the touch and fresh and glowing to look at, it was the embodiment of everything my bathroom was not. I have to admit I was incredibly impressed with the results of this mask, and a little surprised by the effects of such a simple and entirely natural composition. I even had a friend demand to know 'which fancy new cream' I was trying out this week because of the difference in my skin.
It is a bit of an ordeal – I left a peat-drenched mess and a crying child who stumbled upon a terrifying mud creature in my wake. And for around half an hour after use – and I mean this in the most ladylike way possible – I was sneezing little bits of intrepid black stuff that had ventured into every facial crevice it could find. But was it worth it? Unfortunately, a definite yes. ÓG Ireland Peat Face and Body Mask is €34 from spas, salons, pharmacies and health stores nationwide. You can also shop for their products online at www.ograskincare.com.