Nude Cellular Renewal Serum
By Jessica, May 1, 2012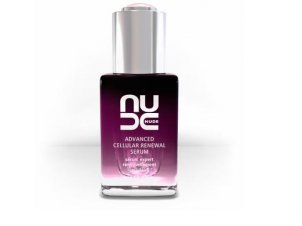 Nude skincare is the brainchild of a health food expert and business partner Ali Hewson. The brand offers high performance, luxury products that have the added bonus of being natural, using no unnecessary chemicals or additives. This serum is designed to boost radiance from first use and gradually diminish fine lines and wrinkles.
Nude Advanced Cellular Renewal Serum
The Advanced Cellular Renewal Serum from Nude contains the highest concentration of pro-biotic technology of all the products in the range. This formulation is said to assist the skin in healing itself, repairing DNA damage by up to 50% and stimulating cell renewal by up to 70%.
The serum contains hyaluronic acid and numerous peptides for long-term effects, as opposed to using silicones for temporary results. It's gentle enough for use around the eye area and is said to be suitable for even sensitive skins.
Instructions are to apply just one drop onto a clean face each night and follow up with a moisturiser. The treatment is designed to work with the skin's own night-time repair cycles, and so is recommended for use in the evening. However it can also be used during the day if desired, as it also contains a degree of free radical protection.
The serum is milky in appearance and is absorbed by the skin straight away. In use, quite a large drop is needed for even distribution all over the face, but the more generous the application the more noticeable the immediate effects are. The serum creates an instant tautening sensation without verging on the uncomfortable tightness that can come with similar products. Dramatic results aren't immediately apparent, but it certainly feels like a nice firming addition to nightly skincare.
Nude skincare products are available from Space NK in Harvey Nichols and Vedas Beauty, Dun Laoghaire, Co. Dublin. The Cellular Renewal Serum costs €88 for 30ml – they say you should get two months from the bottle using one drop each evening.