Nimue Exfoliating Enzyme
By Jessica, July 12, 2012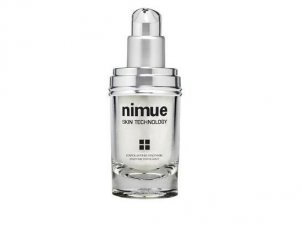 Nimue takes a medical approach to skincare, treating environmentally damaged, hyper pigmented and problematic skin with pharmaceutical grade ingredients. Their Exfoliating Enzyme is designed to gently detach dead skin cells and promote cell renewal.
Nimue Exfoliating Enzyme
Enzyme and chemical exfoliators can take some getting used to. Gliding onto skin without the slightest hint of grittiness, they couldn't be any further from traditional formulations. While it may feel as though you're not getting a decent scouring, the ingredients are actually gently dissolving excess surface skin instead of physically sloughing it away.
Instructions for the Nimue version are to apply to a clean dry face and leave for two minutes. Then, with wet fingers, massage the residue into the face and neck for a further three to five minutes before rinsing away.
Thick and gooey, the only slightly unpleasant aspect of the process is the faintly objectionable scent. But the results are impressive, and skin is left smooth and clean without any dryness. The effect is just as polished as with a conventional exfoliator – if not more so – without the irritation.
Ideal for those with uneven or congested skin, it gently tackles all those lumps, bumps and whiteheads. Sensitive skins who don't get on with scrubs should also find it more than tolerable, and it can be used up to three times a week.
Nimue Exfoliating Enzyme is available from Platinum Therapy and Beauty at Buttercups, both in Dublin, Bay Spa in Waterford, and select salons nationwide for €48.30 (60ml).