Nimue
By Jessica, February 10, 2010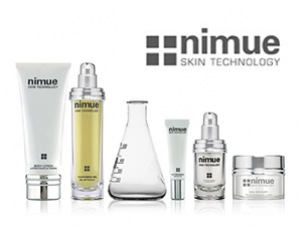 Nimue skin care was originally aimed at the medical market, specialising in treatments for pre and post operative patients.  This has since evolved to a selection of formulations for treating different skin conditions.
Hailing from South Africa, the line is derived from pharmaceutical grade nutrients, antioxidants, phytoceuticals and peptides.  The objective of the products is to improve skin from deep below the surface.
The company philosophy is based on four treatment pillars: rejuvenation, restoration, antioxidation and sun protection.  They apply this through their skin classification system which divides skin types into environmentally damaged skin, hyperpigmented skin, problematic skin and interactive classifications.
Products for use at home come with specific guidelines.  You are advised to begin with The Basics, which restore, repair and rejuvenate while hydrating the skin.  About two weeks later, under the direction of a Nimue Skincare Professional, you will progress to The Actives.  These products are designed to further firm and tone the skin.  Finally you will advance to Treatment Support which is adapted to meet your skin's changing needs.  Nimue also provide a range for young skin, men, the body and lightweight treatment foundations.
Of the spa treatments, Nimue facials come in rejuvenating and cleansing forms as well as glycolic and lipoic treatments.  Depending on the spa or salon, you can also opt to add collagen treatments for the eyes or face, or both, to your facial.  Otherwise you can request a customised facial which will classify your Nimue skin type and treat it accordingly.  They also provide a range of body treatments for various skin needs.
You can find Nimue products and treatments in spas and salons such as Platinum Therapy, Mount Merrion, Dublin; Buttercups in Malahide and in Dublin 2; Plush Beauty, Co. Limerick; Coco, Ballincollig, Cork; and Beauty Republic, Carlow.