NEOM Christmas Wish Candle 2010
By Jessica, November 9, 2010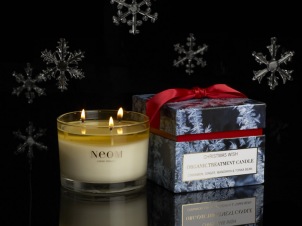 Every year NEOM's Christmas Wish candle raises money for the Make-a-Wish Foundation with £1 from every candle sold going to the charity. The festive candles are sold in a special edition frosted-look box which changes every year. The Cinnamon, Ginger, Mandarin & Tonka Bean candle has 3 wicks and will burn for 55 hours.
The make A Wish foundation grants the wishes of children aged between 3 and 18 living with life-threatening medical conditions. The foundation grants wishes with the aim of giving children a break from their usual routine of hospitals, doctors and treatment, whether they want to be a builder, a fireman or a princess for the day, there is no wish too big. Since 1992 Make-a-Wish has granted the wishes of 1,000 Irish children giving lasting memories to them and their families.  
The Christmas Wish candles are available in Brown Thomas and through NEOM's website.