NEOM Luxury Organics
By Jessica, September 27, 2010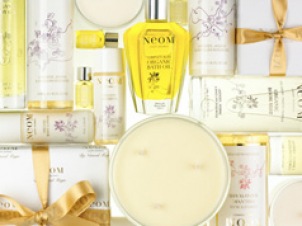 Studies show that the average woman uses over 250 chemicals on her skin every day. NEOM was founded with the goal of reducing this number by creating products that are not only luxurious and effective, but also completely natural and organic. The high content of essential oils in their products means that they are perfect for holistic treatments. NEOM's luxurious body oils are used in spas for organic massages.
One of their most popular products is their hand-poured candles, made entirely from vegetable wax and essential oils and free from paraffin and added chemicals. They burn away cleanly without leaving even a trace of burnt wick or soot and have a range of scents to match the mood you're in, and the mood you want to be in. For relaxation and tranquility there's an English Lavender, Sweet Basil & Jasmine candle, or to invigorate; Grapefruit and Bergamot. Larger candles also have a burning time of up to 55 hours in a safe, self contained glass jar making them ideal for use in spas or at home.
As well as creating products for spa use, NEOM offer a huge range of products for around the house. Along with their candles they also have a range of products for naturally scenting your home including natural reed diffusers and room mists which can be sprayed onto bed sheets, ironing, on rugs and carpets and even behind radiators.
NEOM has a loyal celebrity fan base which includes Kylie Minogue, Gwen Stefani and and Cheryl Cole. Earlier this year NEOM's Rose & Neroli candles were used to scent the 2010 Cosmopolitan Fragrance Awards.
NEOM products are available in Brown Thomas as well as Aura Day Spa Belfast, Serenity Spa Carrickdale Hotel & Leisure Dundalk, The Beauty Boutique Killaloe and Aghadoe Heights Hotel & Spa. They can also be bought online.