Mama Mio OMega Body Oil
By Jessica, May 30, 2011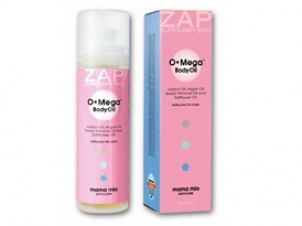 Mama Mio began as a pregnancy skincare brand, but has expanded their findings on maintaining skin moisture and elasticity during pregnancy to develop a traditional skincare range. The brand has a strong focus on safe ingredients thanks to their 'No Nasties' policy.
Mama Mio OMega Body Oil
The body oil contains almond, jojoba, argan and safflower seed oils as well as Vitamin E and omegas 3, 6 and 9. The packaging shouts 'get over your fears about this being an oil', it apparently absorbs quickly leaving a soft sheen with no residue. The time has come for you to bid 'so long, lizard legs' with this brazen super power at your side.
My reaction to these rather zealous American claims was an equally Irish indignant intimidation – a little defensive that I wasn't scared of no oil while secretly horrified at how lizard-like my hitherto human legs appeared now that it had rudely pointed them out.
Perhaps I was a little over-enthusiastic in my application following this disturbing appraisal, as the oil truly took forever and a day to absorb. My legs were left feeling greasy to the touch and clinging to my clothes with a horrible squidgy sensation for the remainder of the day.
I really liked the idea behind this oil, that it is moisture in its purest form, free from emollients and carriers. Like all Mama Mio products, the oil is also free from colourants, parabens and synthetics and is suitable for use during pregnancy. Another plus was the smell, a bit of a ringer for the more expensive Elemis Frangipani Moisture Melt body oil, but with a kick of citrus interrupting the sweet almond.
Unfortunately the discrepancy between its fast absorption claims and my oily reptile legs was just a tad too wide to overlook. Mama Mio is available from Arnotts and select pharmacies nationwide. The OMega Body Oil is €28.