Lush Exfoliant and Serum
By Jessica, November 10, 2010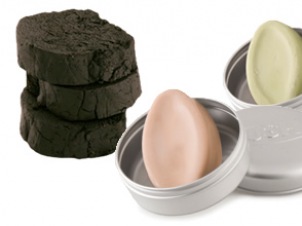 Walk past any Lush shop and you'll get a waft of their signature strong smelling soaps and skincare products. I love this smell, but I know there's an equal amount of people who can't stomach it. I usually go in for soap but I decided to branch out and try a few other products.
Dark Angels
Many exfoliants on the market are quite gentle so its nice to find an exfoliant like Dark Angels from Lush that really gives your skin a good scrub. Some people may have sensitive skin and might not want something quite so abrasive. Lush recommends using once a week. The products main ingredients consist of charcoal and Rhassoul mud, so don't get a fright when you see a mucky looking face, looking back at you in the mirror. Luckily it washes off easily and as it contains Sandalwood and Rosewood oils it doesn't leave your skin really dry. For some reason it smelt like liquorice but I love liquorice so that was cool with me. Overall I really like it and my skin felt lovely and soft afterwards.
Good For: Oily skin
Price: €6.50
Solid Facial Serums
I tried two solid facial serum bars from Lush. The first is called "Full of Grace" that moisturizes your skin while "Saving Face" balance the sebum production and contains citrus oils. Both of them can be used under a facemask to lock moisture in. I had not used a serum bar before so got a little fright with how thick and greasy it feel when you put it on. You use the warmth of your hands to melt it and massage into your face. I was worried that it would not all wash off properly as it was quite thick and to be honest I don't think I had removed all of it before I went to bed. I was a little worried I would wake up with clogged pores the next morning but I was surprised at how soft my skin felt the next day and I didn't break out in any spots. These serum bars are actually recommended for oily or sensitive skins and the main ingredient is shea butter along with various natural oils. I am not sure if I would put it on first thing in the morning but I can see myself using it before bed if I felt my skin needs a real moisture boost.
Full of Grace
Good For: Dry Skin
Price: €9
Saving face
Good For: Oily skin
Price: €9