Kiehl's Rosa Artica Cream
By Jessica, April 18, 2013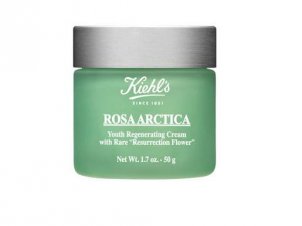 Kiehl's is an apothecary-style skincare brand originally from New York. Its products today still reflect the company's natural, homeopathic foundations, with natural ingredients used as much as possible.
Rosa Artica Rehydrating Reactivation Cream with Rare Regeneration Flower
This Kiehl's cream boasts rare 'Resurrection Flower', or Rosa Artica, as its key ingredient. Claiming to boost collagen and elastin production when applied to the skin, it is combined with moisturising ingredients such as cocoa and shea butter for added hydration.
This is an extremely thick, heavy formulation, and takes some coaxing out of pot and onto skin. A little on the greasy side, it's quite hard to spread. Avoid using too much if you want to steer clear of a layer of sheen, and it's worth heating up on the palms of hands before application to improve malleability.
However once you get the knack of preparing and applying Rosa Artica, it does provide a serious dose of moisture for depleted skin. And the brand does recommend it for those 30 and over with skin on the dryer end of the spectrum – oilier types should probably pass on this one.
If intensely moisturising creams with a slightly oily base are you're thing, you'll love Kiehl's Rosa Artica. Available from Arnotts, Dundrum and the brand's store on South William Street in Dublin, it's €52 for 50ml.