Human + Kind All-in-one Family Remedy Cream
By Jessica, March 21, 2013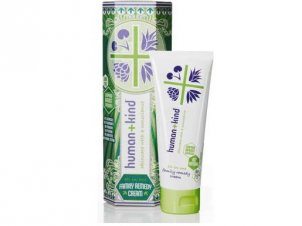 Human + Kind is an Irish skincare brand with a range of time and money-saving multi-purpose skincare products. Their formulations are free from synthetic colours and fragrances, parabens and any ingredients that have been tested on animals.
All-in-one Family Remedy Cream
The All-in-One Family Remedy Cream is designed for use by both adults and children for a variety of skin ailments. Containing only natural and hypoallergenic ingredients, it can be used on eczema, psoriasis, minor burns, insect bites, stretch marks, cold sores, sunburn and any other mild skin irritations.
The cream is quite thick and almost waxy in consistency, not far off Elizabeth Arden's 8 Hour Cream. It takes a bit of rubbing in, but definitely provides relief for extremely dry patches on areas like elbows, knees and heels. The handbag-friendly tube also makes it ideal for on-the-go applications to desiccated hands and lips.
My only issue with this product would be the fragrance. It's on the more pungent end of the scale, with a very strong aloe vera type scent that clings to skin for hours after application. But this probably wouldn't bother most.
Overall a great multi-tasker that works for almost every skin affliction imaginable. Available from select pharmacies and health food stores nationwide as well as humankind.com, the All-in-one Family Remedy Cream is €22.95.