Human + Kind
By Jessica, August 7, 2012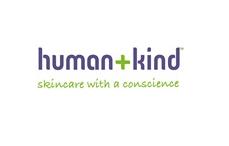 Human + Kind is an Irish skincare brand aimed at men and women who are "tired of wasting time and money on unnecessary products". Offering a focused range of just a few formulations, they promise a chemical-free alternative to traditional skincare regimes.
Created here in Ireland by two Dutch men, the founders claim that "worldwide, the majority of skincare products contain potentially harmful chemicals that have not been assessed or screened safely." What's more, these chemicals can actually aggravate the conditions they claim to treat as a result of skin irritation.
They decided to devise a selection of multi-tasking products that were free from chemicals, synthetic colours and fragrances, parabens, and any ingredients that have been tested on animals. The results have also been thoroughly tested by dermatologists to ensure their hypoallergenic classification.
Products in the Human + Kind range include All-in-One Family Remedy Cream, All-in-One Body Oil, All-in-One Day + Night Cream, and their most recent launch, an Anti-Ageing Cream.
The All-in-One Remedy Cream is designed for use on skin of all ages and types to soothe conditions such as eczema, psoriasis, acne, stretch marks, cold sores, stretch marks, athlete's foot and general irritations. Or, for a more targeted treatment of stretch marks and scars, the Body Oil provides non-greasy hydration for normal, dry and sensitive skins.
The Human + Kind facial moisturiser was created to act as both a day and night cream, while the new All-in-One Anti-Ageing cream provides for those who want to tackle wrinkles without investing in a multitude of expensive treatments. Use as a moisturiser, anti-wrinkle serum, eye cream and night cream
Presented in colourful, unusually shaped packaging, Human + Kind products have been acknowledged with an Irish Tatler Beauty Award. Since its launch, the brand has been introduced to locations including the Netherlands and United Arab Emirates.
Human + Kind products are all priced below €30 and are available from pharmacies and health shops nationwide, or online from their website www.humanandkind.com.