Cellulite-Busting Coffee Scrub Recipe
By Jessica, January 22, 2013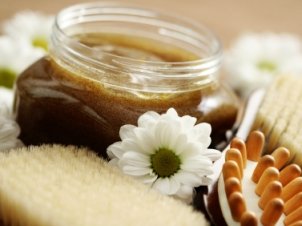 The rejuvenating skincare benefits of caffeine mean the use of coffee in spa treatments is becoming more and more widespread. Coffee body wraps and scrubs are available from spas such as Senses Day Spa in Dublin and Nadur Spa in Co. Kerry, but we have a simple recipe that you can make easily and cheaply at home to reap its exfoliating, detoxifying and cellulite-fighting effects.
The scrub recipe is as follows:
• 100g Ground Coffee Beans
• 200g Granulated Sugar or Sea Salt
• 2 tbsp. Olive or other oil
But you can add a couple of teaspoons of any of the following extras depending on the type of scrub you would like:
• Tea tree oil for a cleansing effect
• Your favourite essential oil for aroma
• Nutmeg/cinnamon/cocoa powder for added depth
• Vitamin E oil for skin nourishment
Simply mix your ingredients together and rub into damp skin, paying special attention to the hip and thigh area. Rinse off in the shower and make sure to moisturise your newly smoothed skin. If you have any of the scrub leftover it can be kept refrigerated in an airtight container for up to two weeks.