Healthy Fruit Pancake Recipes
By Jessica, February 20, 2012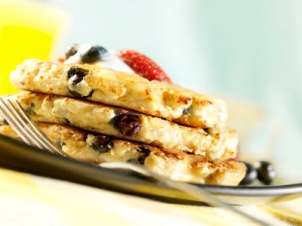 For an alternative to the traditional healthy breakfast pancake this Pancake Tuesday, why not put a juicy twist on things with one of our delicious fresh fruit recipes?
To cook the pancakes below, first beat the wet ingredients together (eggs and milk) and then gradually add them to the dry ingredients (flour, baking powder etc.). The fruit ingredients can be blended or roughly chopped and added in just before the mixture goes in the pan.
Each recipe makes around 10 pancakes.
Blueberry Oatmeal Pancakes
200g self-raising flour
1 tsp baking powder
75g oatmeal
1 egg
300ml milk
1 tsp honey
½ punnet of blueberries
Banana Bran Pancakes
175g self-raising flour
25g whole wheat flour
1 tsp baking powder
¼ tsp cinnamon
50g oat bran
1 egg
300ml milk
1 banana, sliced
Strawberry Ricotta Pancakes
200g whole wheat flour
1 tsp baking powder
1 egg
300ml milk
Juice of half a lemon
200g ricotta cheese
½ punnet strawberries
Top with honey and chopped fruit rather than sugar and syrup and enjoy a guilt-free Pancake Tuesday!