Healthy Pancake Recipe
By Jessica, March 7, 2011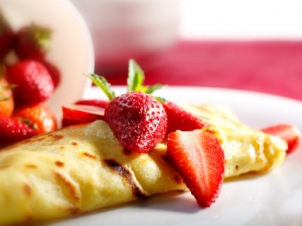 For an alternative to the sugar-loaded stodgy pancakes that are so traditional on Shrove Tuesday, why not try a slightly healthier version? Just a few small changes will give you a far more nutritious treat without sacrificing the flavour.
Give whole wheat flour a go this year to boost the fibre content of your pancakes, or try using skimmed or semi-skimmed milk instead of full fat if you're watching your calorie intake. Your choice of toppings also makes a huge difference – skip the sugar and ice cream and try natural yoghurt and blueberries for an antioxidant boost, or even mix your favourite fruits in with the batter recipe below.
Ingredients
110g whole wheat flour
1 tsp. baking powder
1 egg (or two egg whites if you want to keep cholesterol down)
240ml of skimmed milk
2 tbsp. honey
Optional: sesame or sunflower seeds, chopped fruit
Method
Sift the flour and baking powder into a mixing bowl and make a well in the centre.
Crack the egg (or egg whites) into the well and add the honey and about a quarter of the milk.
Slowly stir the egg, milk and flour and gradually add the rest of the milk while building up to a beating motion. If the mixture isn't runny enough then add more milk as necessary, or, if the mixture becomes runny quickly, you may not need to add all of the milk.
Just before cooking, add in any extra health-boosting ingredients you want to try – seeds are great for a little crunch while chopped fruit will keep your sweet tooth happy. You may need to add a little more milk if you do.
Heat up a pan until it's hot, then turn down to a medium heat. Put a little vegetable oil (healthier than butter) into the pan and then ladle enough of the batter in to thinly and evenly cover the entire base.
Cook until the edges begin to brown, then flip and cook the other side.
For best results, prepare the batter at least half an hour before cooking or do it the night before and refrigerate if you can.