Health & Safety at the Spa
By Jessica, October 13, 2011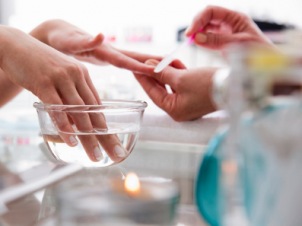 Most of us will encounter an unsatisfactory spa experience at some point, whether it's a manicure that chipped straight away or a massage that didn't quite hit the spot – but what happens when a spa treatment has a serious impact on your health? Stories of infections, rashes and even diseases resulting from unsanitary spa procedures surface regularly in the news. If you're trying out a new spa for the first time, ask for a tour and check for these warning signs to ensure the therapists and equipment are up to standard.
The Facilities
Cleanliness of a high standard should always be in place at a spa. Look out for mould or mildew in wet areas, clogged drains, and dirty surfaces. Treatment rooms should show no signs of the previous occupant when you enter: tables should be covered with fresh sheets and/or disposable paper for each client and clean robes or coverings should be supplied. Don't be afraid to ask about their policy if you're doubtful this practice is being adhered to.
The Therapist
Your therapist should be neat in appearance, courteous and respectful. It's always a good sign if you're asked to fill in a questionnaire before treatment, and therapists should never leave you unattended in treatment rooms in case problems arise later. They should always wash their hands before touching you and gloves should be worn for the majority of beauty/grooming treatments.
Waxing
If you're going for a wax, check to make sure the wax pot is clean and there are no implements or applicators sitting in it. Ask the therapist if they use a new spatula each time they dip into the pot and terminate a treatment immediately if they do not. Double dipping of wax spatulas can result in the hairs, skin and even traces of blood from previous customers contaminating the wax and causing infections.
Manicures & Pedicures
The equipment used for manicures and pedicures should be sterilised or disposed of between each use to avoid skin and cuticle infections. Metal items should be removed from their cleaning solution in your presence so you can see they have been cleaned, and any cotton wool, wooden sticks etc should be taken from fresh packaging. Any bowls or footbaths used for soaking also need to be thoroughly cleaned between uses.
Laser Hair Removal
Laser hair removal can be a considerable investment so it's important to make sure it will be done correctly and safely. Ask if the spa own or rent their laser equipment – this is quite expensive so a spa that owns the machinery generally performs the treatment regularly and will be experienced in administering it. One that rents equipment on the occasion of a booking may indicate that laser hair removal isn't a specialty at that spa.