Green Angel Hand Cream
By Jessica, April 7, 2011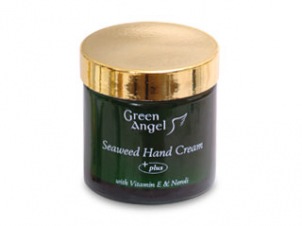 Green Angel is an Irish skincare brand that uses seaweed harvested off the west coast of Ireland in its products. This, blended with a selection of essential oils, forms the basis of their face, body, hair, hands and feet treatments.
Green Angel Seaweed Hand Cream
The hand cream from Green Angel contains lavender, mandarin and neroli essential oils alongside its therapeutic seaweed blend. With Vitamin E thrown into the mix, it promises to soothe, pamper and rejuvenate hands to keep them young looking.
The consistency of the cream is luxuriant without being gloopy, and the subtle whiff of lavender adds a nice touch. My pet hate with hand creams is the residue they often leave behind, meaning a scattering of slippery fingerprints follows me around until it finally dries in or I give up and wash it off. Quite happy to report I didn't have this problem with Green Angel, so in this sense it's a good hand cream for on the go.
The only thing that would put me off in this respect would be the glass jar packaging. While it is presented beautifully, the jar is a little less handbag-friendly than a tube. But with this being the only complaint, the hand cream is a pretty good one – high quality and textured and fragranced beautifully.  RRP €19.95 from Clery's in Dublin and chemists nationwide, or online at www.greenangel.com.