Get your Legs Ready for Summer
By Orla, June 4, 2013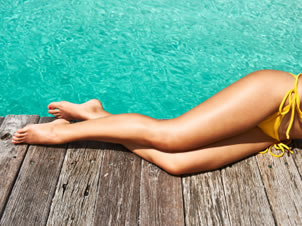 Summer's in and you know what that means, the legs are out. It's that time of year again where we bare our legs and show some skin.
It can be daunting to take the plunge and unveil your legs after months of keeping them hidden away beneath tights and trousers, but we've got a few simple tips to help boost your confidence and get your legs looking as fabulous as they can.
First things first, before we can show any leg, a wax strip or two wouldn't go a miss. Now we all know that waxing can be painful, but it doesn't have to be:
Top Tips for Waxing
It's always easier to wax short hair than long hair, so try to nip it in the bud and wax before your leg hair grows too long.
Easier said than done, but just breathing alone can help reduce pain. We tend to hold our breath because we know what's coming, but relaxed breathing in and out will definitely ease your pain a little.
Similarly, cough as the wax strip is pulled off, it's a welcome distraction – try it!
Don't wax your legs in the few days before or during your period as your skin is much more sensitive at these times.
Think ahead – take pain killers 45 minutes before waxing
Now that you're smooth and hair-free, you're nearly there. But of course, us women tend to worry about our cellulite, with it affecting 90% of women.
Top Tips to Eliminate Cellulite
Drink plenty of water and replace fatty foods for plenty of leafy greens
Exercise regularly – 30 mins a day is perfect
Use a body brush – Scrub with a soft bristle brush in the shower to get your blood flowing and help break down fat
And lastly, give your legs a golden glow with some fake tan and you're all set to bare those legs. Read more here to find out our top tips for flawless, streak-free golden tan.