Flourish Foot Lotion
By Jessica, May 24, 2011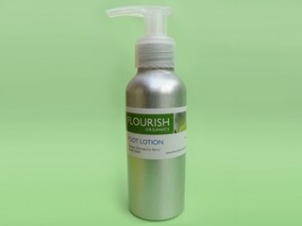 Flourish Organics is an Irish range of skincare products free from artificial fragrances and petrochemicals. Product ingredients are grown organically and sourced locally in Killarney as much as is possible.
Flourish Organics Foot Lotion
The foot lotion contains shea butter, beeswax, and oils of olive, grapefruit and sweet almond to nourish dry skin and rebalance moisture levels. Also included is peppermint for its cooling effects and tea tree to help keep feet healthy and free from fungal infections.
Most notable about this product is its smell. Refreshingly minty, it seems an odd choice for a foot product on first impressions, but actually works well. The cream itself has a pleasant light consistency without being oily. It does take a bit of rubbing in, but it absorbs well and you could happily go about your sock covered day free from the dreaded squidgy toe syndrome caused by so many other foot lotions.
The cream definitely took the dry edge off heels and soles, and I'm rather taken with the fresh, tingly smell and sensation its use entails. Skin is left feeling soft and smooth, and the absence of synthetic ingredients is both noticeable and welcome.
It's probably not the most intensive foot cream I've used when it comes to serious hard-skinned hooves, but it's ideal for use during the day and its appeal is greatly enhanced by the freshening as well as moisturising effects for tired feet. Definitely worth a try at just €9.50, Flourish products are available from selected retailers nationwide or online from www.flourish-healthandbeauty.com.