Fairtrade Skincare for Fairtrade Fortnight
By Jessica, February 26, 2011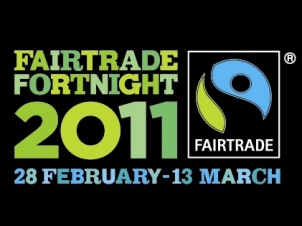 It's Fairtrade Fortnight at the moment, and while generally associated with food products, the Fairtrade logo has also been awarded to select skincare brands. Unfortunately the certification is still relatively rare in the cosmetics industry, so we have researched some of the few official Fairtrade health and beauty products to help you support the good cause this month.
Akoma

Akoma is an ethical skincare company based predominantly in Ghana. Here, they source their signature Raw Shea Butter through local cooperatives to support employment in the region. The Shea Butter nourishes skin with its naturally occurring vitamins A and E and is said to ease everything from extreme dryness to small wounds and burns while having an anti-ageing effect. Akoma Raw Shea Butter costs £7.21 for 160ml from www.akomaskincare.co.uk
Lush

Lush Cosmetics was one of the first brands to be included in the Cosmetics Fairtrade Category in 2009. Their Fair Trade Foot Lotion contains richly emollient cocoa butter from the Dominican Republic as well as almond, spearmint and peppermint oils. Feet are left soft, supple and refreshed for just €13.65 from Lush stores.
The Visionary Soap Company

The Visionary Soap Company has a host of soaps, lip balms, body butters and bath oils which are certified Fairtrade and produced through Township Trade community enterprises between the UK and South Africa. Soothing Fairtrade ingredients include shea butter from Ghana, olive oil from Palestine, coconut oil from India, sesame oil from Nicaragua and cocoa butter from The Dominican Republic. Products are available from Fairtrade Oxfam stores in Dublin, Cork, Galway and Belfast, or online from www.visionarysoap.co.uk
Bulldog Natural Grooming

Bulldog is one for the guys with a range of shaving and shower products as well as a choice of moisturisers. Their certified Fairtrade options include the Eco-System Moisturiser and Eco-System Shave Gel which contain green tea from Sri Lanka, shea butter from Ghana, sugar from Paraguay, sesame seed oil from Nicaragua and Brazil nut oil from Peru. Bulldog products are available in some of the bigger Boots stores and select health food shops nationwide.
Organic Monkey

Organic Monkey is the first baby and toddler skincare range to be certified Fairtrade, with gentle and natural ingredients perfect for sensitive young skin. Products are available to treat sore tummies and teething cheeks as well as cradle cap and nappy rash. Organic Monkey delivers to Ireland from www.organicmonkey.co.uk.