Elemis Anti-Ageing Detox Regime
By Jessica, January 20, 2011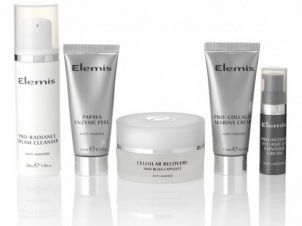 Elemis is a leading spa and skincare brand known for combining natural active ingredients with cutting edge technology to create unique anti-ageing products. Their latest offering is a limited edition anti-ageing detox collection to help you through the month of January, promising to transform skin in just 14 days with a 5 step regime.
Anti-Ageing Detox Regime
Pro- Radiance Cream Cleanser 30ml
Step one in the regime is the cleanser, which contains a range of purifying ingredients such as Moringa Seed Peptides. Massaged into the skin, it is left on for a minute or so before washing away with a damp cloth. The result was a clean feeling without the tightness I usually associate with wash off cleansers. Used on its own, it would be more than nourishing enough to go without moisturising afterwards.
Papaya Enzyme Peel 15ml
The Papaya peel is a non-abrasive exfoliant which is used twice a week to give a little extra brightness. Deliciously fragranced, the cream texture tightened skin over the 10 minutes I left it on, but without progressing to the uncomfortable burning that comes with more gel textured peels. My skin did appear a little brighter after use and nicely moisturised.
Cellular Recovery Skin Bliss Capsules (14)
These little gems are colour coded – green lavender for use at night and pink rose for during the day. Directions say to warm the contents, which include ingredients such as Moringa Oil, in the palm of the hand before applying. The scent was gorgeous, and the oil did not leave any residue as I had initially expected. However, while a pleasant experience, I can't say I'm entirely convinced as to their actual purpose or effect.
Pro-Collagen Marine Cream 15ml
Next, on to the day cream. This claims to reduce the appearance of wrinkles while increasing skin hydration and providing protection from free radicals. Applied in the morning, the effect was soft and comfortable skin all day despite being subjected to some particularly windy weather and dehydrating central heating.
Pro-Intense Eye and Lip Contour Cream 5ml
This cream is intended for use around the delicate eye and lip area, not actually on the lips themselves. Active plant cell ingredients are used to apparently firm the thin dry skin around the eyes and plump out vertical lip lines. I found it to be a nice supplement to the moisturiser which is a little too heavy to use on these areas.
The key question is, is this an effective anti-ageing regime? It's definitely a thorough daily skincare routine, and perfect for detoxifying skin that has built up dull skin cells and dirt over time. My skin tone has improved noticeably and it does seem more supple. However, as for a significant reduction in the number or depth of wrinkles, I'm not entirely sure. Fourteen days seems a tad ambitious for such dramatic results but I suppose more time might tell!
The Elemis Anti-Ageing Detox Regime is available in stores such as Harvey Nichols for around €48 or online from timetospa.co.uk for the cheaper price of €41 (£35).