Dr. Nick Lowe The Secret is Out Instant Face Lift
By Jessica, March 4, 2011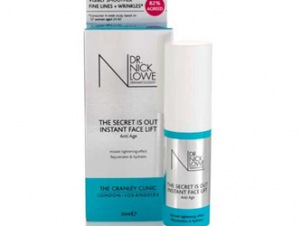 Hmm, another anti-ageing expert skincare range from Los Angeles. Land of the freely used 'Dr.' title and home of those who bravely submit to anyone with a perma-tan, long white coat and a needle.
These products look and sound like the type that have a hefty price tag researched and developed before the ingredients – but remarkably, they don't. Also refreshing is that Dr. Lowe really is a doctor (honest, I checked) and mercifully doesn't refer to himself as Dr. Nick (possibly because he's originally from the UK).
Apparently 30 years of experience has gone into this range. The Instant Face Lift Cream contains algae derived extracts, Vitamins A, C and E, and complicated peptide and anti-ageing complexes. The idea is to instantly tone the skin as well as have a long term effect on firmness and lines.
The consistency of the cream is lighter than most, with a gel-like feel that absorbs almost instantly. In terms of immediate effects, there is definitely that faint tingle that comes with a good firming product. My skin was actually a little red after use, which is not something I usually experience – but it wasn't painful and subsided quickly so I've optimistically taken it as a sign that it's doing something.
I don't look like I've had a facelift by any means, instant or otherwise. However it is a nice, light cream as anti-ageing products go and definitely worth a try if you're tired of the over-priced, ineffective alternatives.
Dr. Nick Lowe products are available from Boots. The Instant Face Lift cream costs €36.99.