Dermalogica Age Reversal Eye Complex
By Jessica, January 30, 2012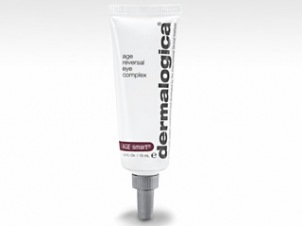 The Dermalogica Age Reversal eye cream is part of the brand's AGE Smart range, aimed at mature or prematurely ageing skin types. It claims to reverse multiple signs of ageing including wrinkles, crow's feet, puffiness, dark circles and dehydration.
Dermalogica Age Reversal Eye Complex
The eye cream comes with a caution to apply only every second night to begin with. Purportedly containing stronger ingredients than your average eye cream, Dermalogica say that it takes awhile for your skin to build up a tolerance. Marketing ploy or worrying warning? Well, it turns out the culprit is vitamin A, or retinol – one of the most sought after anti-ageing components in skincare.
A heavily regulated ingredient, a prescription is required to purchase skincare products with a greater concentration than 0.1% of retinol. Usually incredibly expensive, the general consensus among dermatologists is that these retinol prescription creams are probably the only products in existence that actually have a visible, measurable effect on signs of ageing in the skin. 
Dermalogica's Age Reversal Complex contains the maximum 0.1% allowed in over the counter treatments, and claim this is enough to reverse UV damage and encourage collagen production. All without the scaling and increased risk of sunburn that comes with higher concentration creams.
Peptides, vitamins and botanicals are thrown in for good measure, and the resulting combination is said to reinforce the resilience of this delicate area of skin and reduce the congestion that results in under-eye bags and dark circles. It's a nice consistency for an eye cream, rich enough to feel moisturising but not so heavy that it sits on the skin. Overall very pleasant to use, and the Vitamin A gives it a definite advantage. The Dermalogica Age Reversal Eye Complex is €70 for 15ml, from Dermalogica counters nationwide.