Dead Sea Spa Magik Mini Facial
By Jessica, December 28, 2010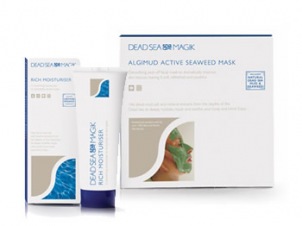 Having heard a lot about Dead Sea Spa Magik products and their healing properties, I was keen to indulge in their proffered spa standard experience in the home. With a wide range of products on offer, I chose their new Algimud face mask (apparently used by model Caprice) for a little deep-cleansing, and decided to complete the facial with their Rich Moisturiser to soothe my winter-weathered skin.
Algimud Active Seaweed Mask
Dead Sea Spa Magik's Algimud face mask combines natural alginate seaweed with Dead Sea mud. Containing an array of pure Dead Sea minerals and no parabens, it comes in a powder form purchased in individual sachets.
The contents of the sachet are mixed with 75ml of cold water and quickly applied with 'a spatula or similar instrument' the directions tell me. Hmm… Never one to deviate from instructions, I mix the two in a kitchen measuring jug and lash it on with a baking spatula – much to the joy of those who share my kitchen utensils.
The mask develops a clay-like consistency almost immediately. Slathered on generously it covered both my face and neck, and despite going on quite lumpy the surface soon smoothed out of its own accord. The ensuing fragrance was subtle but pleasant – somewhere between light florals and salt water.
Like the fragrance, the sensation induced by the mask is subtle but thoroughly refreshing giving a slightly cooling tingle. Left on for just under 20 minutes, the mask peeled off easily and left my skin feeling very gently tautened and silky soft to the touch. A faint soothing tingle lingered on for awhile after, much the same way a professional facial administered in a spa would do. All in all, an invigorating experience with lovely results.
RRP: €4 for 25g or €17 for 300g
Available from: Select health shops and chemists or from www.oceanhealthstore.com and www.evergreen.ie.
Rich Moisturiser
A splash of cold water later, it is recommended that you follow the Algimud mask with a dab of moisturiser. The Dead Sea Spa Magik Rich Moisturiser goes on quite thick and creamy, but is still pleasantly light and easily absorbed unlike many intensive moisturisers intended for dry skin.
My skin was left feeling replenished and re-hydrated, making it both a perfect follow-up to the mask and a nice base for applying make-up the next day. The moisturiser contains UVA and UVB protection along with the anti-ageing mineral calcium and a number of other beneficial minerals. Like the mask, it is paraben free and contains certified organic ingredients, an innovation that I can both see and feel working its 'Magik' on my skin!
RRP: €8.95 for 75ml
Available from: Select health shops and chemists or from www.oceanhealthstore.com and www.evergreen.ie.