Darphin Hydraskin Serum
By Jessica, November 14, 2011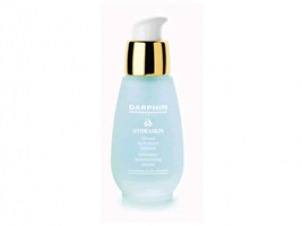 Darphin is a botanical skincare line based around carefully selected aromatic plant oils. Exclusive ingredients are blended with extensive research and technology to create their comprehensive range of products to treat every skincare need.
Darphin Hydraskin Intensive Skin Hydrating Serum
Darphin's Hydraskin line is designed to quench parched skin and protect moisture reserves beneath the surface. From their vast collection of products I was especially keen to try this swoon-inducing 'hydrating powerhouse', said to be a high-potency mix that softens and hydrates dry, tight-feeling skin. The serum is paraben and oil free and contains pomegranate as part of Darphin's Extreme Hydration Complex.
Expecting a gel or cream, I happily dispensed five pumps on to my hand as directed. It immediately ran all over the place, seeped through the gaps between my fingers and disappeared. The serum is completely liquid, making it difficult to control using a pump top. One of those little dropper dispensers is really best for this kind of product consistency, even if they do look a little ridiculous.
When I did eventually get around to putting the stuff on my face, the moisture was slurped up and left a feeling of hydration for hours. I've been using this for some time now, both under a moisturiser for intensive hydration at night and in replacement of my regular moisturiser during the day. The results, both instant and lasting, are incredibly impressive and the dry patches of skin that afflict me from time to time have been smoothed beyond recognition.
I would be concerned that this won't last particularly long, both because I've taken to using it regularly for a quick dash of moisture when I need it, and because it's a pretty small bottle. You get just 30ml of product for €59, but it really is worth it if you suffer from dry or dehydrated skin that needs that extra splash of moisture in your regime. Available from Arnotts in Dublin and a number of spas and pharmacies across the country.