Comfort Zone Skin Care Reviews
By Jessica, October 19, 2010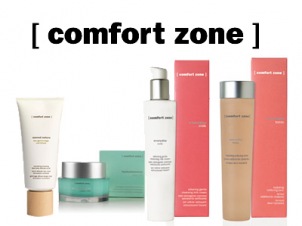 I've finally gotten around to trying [Comfort Zone] products as I'd heard great things about the brand. So to experience the products fully I opted for a complete skincare routine: Their Everyday milk and tonic, a scrub and a moisturiser.  
Milk and Tonic
The products I used were from their everyday range so they're quite mild and can be used morning and night on even delicate skin. As well as natural ingredients, these products contain something called Betaglucan, a powerful biological active which has the ability to stimulate the skin's immune system. I loved the texture of the milk. It's a cream but it has an oily feel, so a little goes a long way. The tonic was very light but not watery and you can actually feel it working. After using the milk and tonic together my skin felt velvety and had a really healthy glow that I've never experienced with any other products.
I will admit I had Also I know you shouldn't judge skin care products by their packaging, but I couldn't help admiring the elegant pink boxes and sleek bottles.
Good For: Normal/sensitive skin.
Price: Milk: RRP €34 for 200ml. Tonic: RRP €34 for 200ml.
Bio-certified Gommage
The Bio-certified Gommage (that's scrub to you and I) is intended to be used for the body and face. It promised to leave skin looking luminous thanks to its organic ingredients buriti oil, butterfly bush extract, shea butter and orange distilled water. The grains in the scrub are coarse, but the cream they're in is very thick and nourishing so it can be used on sensitive skin as well as problem areas. The [Comfort Zone] Sacred Nature range products are all bio-certified and use recycled/recyclable packaging and the bottles are printed using watercolours.  
Good For: Dry skin, aging skin, depleted skin.
Price: RRP €51.25 for 200ml
Hydramemory Cream 24h
The Hydramemory Cream 24h is intended for damaged and dehydrated skin. It claims to deliver moisturise to the skin over 24 hours (like in the name). While it's a good moisturiser I didn't notice a major change in my skin. It would probably be more beneficial to someone hoping to correct problem areas of dehydrated skin rather than maintain moisture. It didn't have a strong smell which I liked as I hate using heavily scented creams at night time. It's also supposed to prevent skin aging, but I'll have to keep you posted about that.
Good For: Very dry skin, damaged skin, aging skin.
Price: RRP €68 for 50ml
Prices vary slightly depending on stockists. [Comfort Zone] treatments are available at Harmony a Touch of Spa in Co. Cork, Fota Island Spa Co. Cork, Heaven Scent Beauty Spa in Galway and The Sanctuary Spa at The Bridge House Hotel Co Offaly.