[Comfort Zone] Eye Supreme Cream Gel
By Jessica, June 17, 2011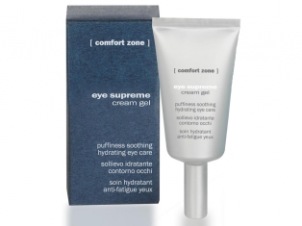 [Comfort Zone] is a luxury skincare brand distributed in over 45 countries worldwide. A winner of numerous international beauty awards, products are available for anti-ageing, purifying, hydrating and more.
[Comfort Zone] Eye Supreme Cream Gel
This eye gel is a hydrating treatment designed to soothe puffiness and reduce dark circles. Recommended especially for those who wear contact lenses or who spend long hours in front of a computer, it is said to have a cooling and de-stressing effect.
The gel contains refreshing aloe extract, caffeine to improve lymphatic circulation and reduce bags and inflammation, Vitamin E to fight free radicals, and a blend of peptides and flavonoids to combat the pigment responsible for dark circles.
The consistency of the product, as suggested by the name, is somewhere between cream and gel. Striking the perfect balance between the two, it effectively delivers the best of both – the cooling sensation of a gel with the hydration of a cream. Only the smallest of amounts is needed and it pats into the skin nicely leaving just the slightest residue.
A thoroughly pleasant cream to use with a light, fresh fragrance, [Comfort Zone] Eye Supreme Cream Gel soothes, brightens and revitalises without heaviness. Available from Fota Island Spa, Co. Cork; Harmony – A Touch of Spa, Co. Cork; Sanctuary Spa, Co. Offaly; and a number of other spas around the country – contact www.rjmhairandbeauty.com for further distribution details. The Eye Supreme Cream Gel is €39.50 for 15ml.