Caudalie Eye Cream
By Jessica, March 1, 2012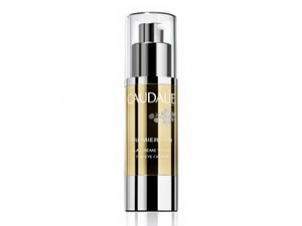 Caudalie is a French skincare brand based on the principles of Vinotherapy. Each of their products contains ingredients sourced from grape seeds and plants for their free radical-fighting and anti-ageing effects.
Caudalie Premier Cru Eye Cream
This Caudalie eye cream is one of just two products from the brand's Premier Cru line – 'an elixir of youth' that incorporates all three of their patented grape based ingredients. The cream promises to act on wrinkles, dark circles, puffiness and lack of radiance and firmness to give eyes a renewed youthfulness.
The cream is dispensed in small but perfectly formed dollops, giving just enough product without leaving any to waste. One of my pet hates being overly-generous pump dispensers when it comes to eye cream, this made a good first impression. The product itself has a shiny, mother of pearl gleam to it, the iridescence intended to counteract darkness around the eyes.
The texture is rich and creamy, but miraculously not too heavy or greasy for the eye area. Application and absorption is quick and easy, but the effects deeply soothing and moisturising at the same time. A difficult balance to strike with eye creams, this one got it just right.
A light and moisturising eye cream that I would happily use all over my face, the Premier Cru Eye Cream retails at €59 for 15ml. Caudalie products are available from Harvey Nichols in Dublin.