Botanica Moisturiser
By Jessica, January 27, 2011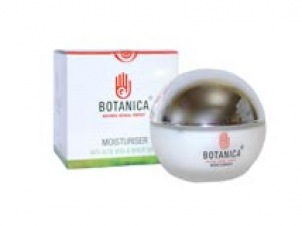 Botanica is an Irish range of skincare products designed to treat various skin conditions entirely naturally. The Botanica Moisturiser is derived from natural oils, including aloe vera, to soothe, soften and moisturise. It claims to hydrate the skin while providing a natural barrier to environmental damage.
Botanica Moisturiser
The cream has a very natural scent of aloe vera, with a light, almost gel-like consistency. It is, as claimed on the packaging, absorbed extremely quickly leaving no greasy residue. But for a brand that claims expertise in treating skin disorders as severe as eczema, I was slightly disappointed with how moisturising it was.
The Botanica brand is very much presented as a line of effective skin treatments as opposed to pretty, nice-smelling products. In terms of immediate results, dry patches did appear soothed, and with regular use there was a slight improvement in the overall texture of my skin. Yet the intense dry red patches that afflict me in winter months didn't quite subside as much as I had hoped.
I will concede that the Herbal Skincare line is intended for the more serious skin conditions, while I opted for the moisturiser from their Beauty Skincare range as I only suffer from seasonal dry skin. As a base for make-up, or a light moisturiser, it is a perfectly good product. But if you're looking for a more intensive moisturiser it may not be for you.
A nice cream, natural and gentle with the added bonus of being home grown, but not quite the hydrating wonder product I had hoped for. Botanica products are available from select pharmacies nationwide or from www.botanicabeauty.ie. The moisturiser retails at €20.