The Best Spa Hotels on Ireland's Wild Atlantic Way
By Orla, May 13, 2016
The Wild Atlantic Way along Ireland's west coast lures tourists from all over the world with it's stunning cliffside scenery, quaint Irish towns and inspiring hiking trails. There is so much to see and do along the Wild Atlantic Way, including some award-winning spas with remarkable scenery.
If you want to experience the authenticity of The Wild Atlantic Way by day but relax in a luxury spa hotel by night, you should probably check out the following Irish spa hotels.
1. Shandon Hotel & Spa in Donegal
Starting up top in Donegal, Shandon Hotel & Spa is the perfect starting point for exploring The Wild Atlantic Way.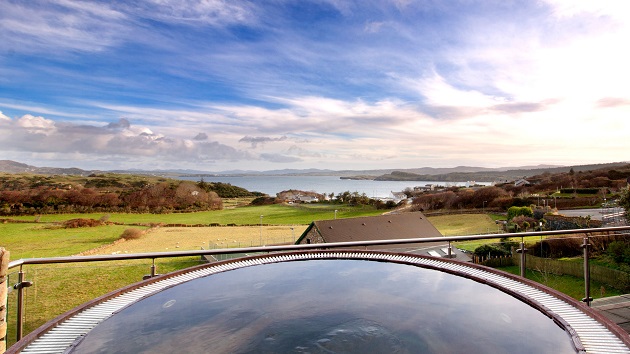 Located in the tourist-friendly town of Dunfanaghy, the newly re-opened 4 star hotel boasts stunning views over Sheephaven Bay. The views are best savoured from Shandon Spa's outdoor Canadian Hot Tub after a long day of exploring the surrounding monastic sites, Glenveagh National Park and of course, the renowned Horn Head.
2. Castle Dargan Resort in Sligo
No visit to Ireland is complete without staying in one of the country's luxury castle hotels. As you make your way down The Wild Atlantic Way, stop off at Castle Dargan House in Sligo which dates back to the 18th century.
Explore the original castle ruins, visit W.B Yeats' old stomping grounds and finish off your Sligo experience with a VOYA organic seaweed spa treatment at Icon Spa.
3. Broadhaven Bay Hotel in Mayo
Perched on the edge of Broadhaven Bay, you'll be blown away by the rugged landscape of The Wild Atlantic Way at the Broadhaven Bay Hotel in Mayo.
There are lots of cycling loops, walking trails, fishing spots and watersport activities surrounding the Broadhaven Bay Hotel. The hotel even has it's own boat for residents to experience the Atlantic Ocean up close and personal. To top it off all, Spa Elysium at Broadhaven Bay Hotel specialises in holistic therapies and Repéchage Seaweed spa treatments.
4. Hotel Westport in Mayo
Westport is a major tourist town on the west coast of Ireland and is absolutely worth an overnight visit if you're travelling The Wild Atlantic Way. Spend the day exploring the traditional Irish pubs of Westport, hiking the Great Western Greenway (the longest off-road walking trail in Ireland) and easing your aching muscles at Hotel Westport's "Ocean Spirit Spa".
5. Delphi Resort in Galway
If you visit Galway and don't take in the remarkable Gaeltacht (Irish speaking area) of Connemara, you will regret it. Delphi Resort in Leenane, close to the Gaelteacht region of Connemara, is a place where time stands still and where everything comes to life all at once.
With the award-winning Delphi Spa plus a host of activities on the resort like watersports, zip-lining, bridge swinging, archery, mountain biking and abseiling, Delphi Resort is the hotel on Ireland's Wild Atlantic Way that has something for absolutely everyone.
6. The Falls Hotel in Clare
Not far from the iconic Cliffs of Moher and surrounded by rolling woodlands, The 3 Star Falls Hotel in Ennistymon in Clare offers an affordable stop-off along The Wild Atlantic Way.
The River Spa at The Falls Hotel looks out onto acres of green woodlands and between the Thermal Suite, Rasul Mud Chambers and Hydrobath, it truly is an oasis of calm and restoration.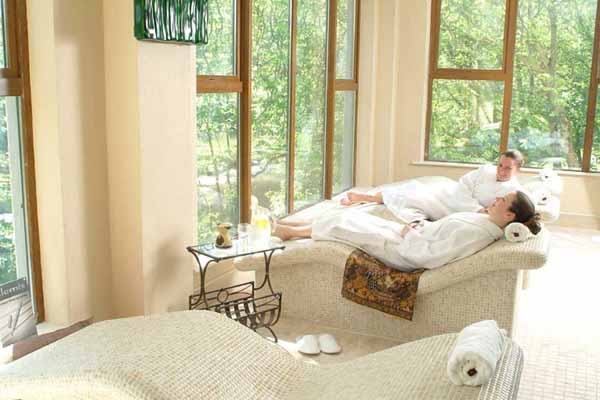 7. Dingle Skellig Hotel in Kerry
Arguably one of Ireland's most beautiful and must-see towns, Dingle is home to one of the finest Kerry spa hotels – Dingle Skellig Hotel & Peninsula Spa. Tucked away in the Gaeltacht region of Kerry you can expect soaring mountains, sandy beaches and lots of traditional Irish culture from Dingle.
The Peninsula Spa's signature Irish spa therapies including ÓGRA treatments with raw organic Irish peat will be the icing on the cake of your visit to Dingle. Make sure to ask your therapist what the Irish name behind your treatment means!
8. Parknasilla Resort & Spa in Kerry
As you venture off into the Ring of Kerry, an exquisite hotel you simply can't pass is Parknasilla Resort & Spa between Sneem and Kenmare Bay.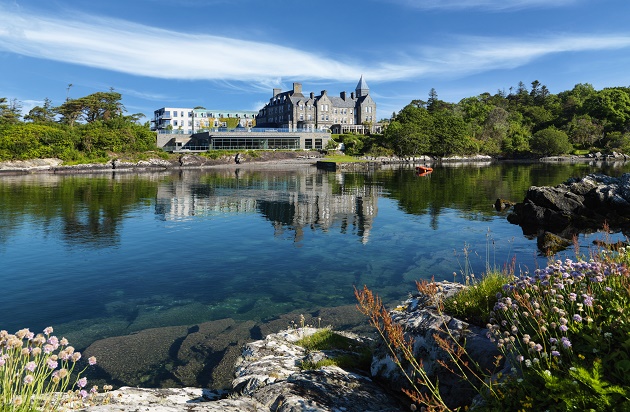 Parknasilla Resort provides a true sensory escape – take a dip in the spa's outdoor hot tub and inhale the fresh breeze of the Atlantic Ocean just a stone's throw away, explore the islands dotted around the resort or hop in a kayak in front of the hotel and enjoy the best of Kenmare Bay and the Kerry mountains. It doesn't get much better than this.
9. The Maritime Hotel in Cork
A modern hotel overlooking Bantry Bay, The Maritime Hotel & Spa in Cork is a fantastic spa hotel along The Wild Atlantic Way. Surrounded by unspoilt islands, seafood restaurants, bars and of course home to The You Time Spa, this stylish hotel has got plenty to offer both eager and weary tourists.
10. Carlton Hotel Kinsale in Cork
The last stop on The Wild Atlantic Way, the Carlton Hotel Kinsale & Aphrodite Hills by C Spa boasts a sublime spa experience. With 10 treatment rooms, a couples suite, organic peat ÓGRA spa treatments and fabulous thermal facilities, you absolutely deserve to be pampered at Aphrodite Hills by C Spa after your travels.
A luxury spa hotel set on 90 acres of woodland with panoramic views over the surrounding bay, this Cork hotel is definitely worthy of your last overnight stay.
There are so many more stunning spa hotels in Ireland that would make for a lovely stay if you're travelling The Wild Atlantic Way and it was hard to narrow it down, but there you have our top 10 picks.
If you know someone embarking on The Wild Atlantic Way, why not treat them to a luxury Spas.ie Gift Voucher so they can try one of these spa hotels out for themselves?