Best Hot Towel Shaves for Movember
By Jessica, November 8, 2012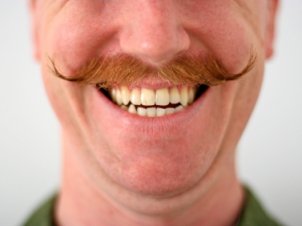 Noticing an outbreak of hairy lips creeping in with the cold weather? No, handlebars are not the new must-have accessory – it's Movember, and those fluffed of face are doing their bit for Prostate Cancer charities.
But believe it or not, growing a Movember moustache isn't as simple as just letting your grooming habits go for a month. Movember rules state that there is to be "no joining of the mo to the sideburns… [and] no joining of the handlebars to the chin" as these are then considered to be beards and goatees respectively.
So if you're a Mo Bro yourself, or a Mo Sista with a newly 'tached man in your life, these hot towel treatments can help keep that Mo in check over the next four weeks.
The Grooming Rooms
One of the few salons in Ireland dedicated exclusively to men, The Grooming Rooms in Dublin offer a range of treatments for facial hair. Perfect for Movember, their Beard & Moustache Design (€35) promises a consultation on possible styles and a custom trim or shave. A more basic moustache wash and trim is just €20, while hot towel shaves are €35 or €60 with a haircut.
The Spa at No. 1 Pery Square
Limerick's Spa at No. 1 has a range of men's facial treatments. Opt for the basic Hot Towel Shave for €40 for 45 minutes or extend it to an hour with a Relaxation Treatment for an extra €10. Or, indulge in a two hour long package with the Shave and Maintenance Facial for €100.
Chill Spa at The Ice House
Visit Chill Spa in Co. Mayo and choose from a number of spa treatments for the boys. Their Turkish take on the Hot Towel Shave involves a double shave for extra closeness followed by a mini facial for softness and suppleness over the course of 45 minutes.
The Spa at The Horse & Jockey
Another spa with basic and luxury options for their hot towel shaves, The Spa at The Horse & Jockey in Co. Tipperary also recommends a number of facials to address the needs of men's skin specifically. Their Classic Hot Shave Experience comes in at €35 for 25 minutes while the Luxury upgrade is €60 for 55 minutes.
The Victorian Treatment Rooms at Castle Leslie
One of the most deluxe spa packages for men at The Victorian Treatment Rooms in Co. Monaghan, the Hot Shave runs to just under an hour. After being swathed in hot aromatherapy-infused towels, you'll enjoy a double shave followed by a face and scalp massage for €70.