Spa Treatments for Men
By Jessica, June 10, 2010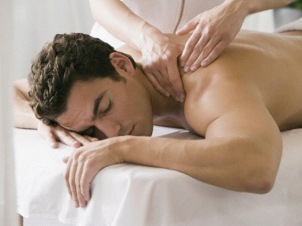 It's time to clear something up about male spa treatments lads. Despite your dogged suspicions, you will not be entombed in a fluffy pink robe, doused in rose oil and assailed with bits of cucumber upon entering the premises.
We are long past the point of grudgingly accepting ostracised 'metrosexuals'. Taking care of your appearance is now expected of you. There's no need for a face of guyliner and manscara or anything, just please throw out that one grey bar of soap you use to wash your face, hair and entire body and get yourself down to a spa.
Ease Yourself In
If you're really reluctant, bring a partner or female friend for your first visit and make like she dragged you along. You can then suss the place out for yourself, it should quell your apprehension a little.
Another option is to visit a golf and spa resort where the atmosphere will be suitably un-girly. There are even a couple of spas and salons dedicated entirely to treating men around the place now, so you're running out of excuses.
For an easy transition from barber to spa, start with a hot towel shave. Your face is heated and moisturised, which makes both the skin and the stubble softer and easier to shave. This is ideal if you experience burning when you shave and the results should be felt for the next few you do yourself.
Face & Body
Now that you have shaken off that caveman attitude, it's time to get rid of the resemblance to him too. Most spa treatments are unisex, but you'll also find some designed specifically for men's skin. And don't worry, if you're contemplating a treatment traditionally associated with flowers and the like, therapists can adjust the products used to keep you smelling all-man.
Massages are a good place to start, their names often preceded with words such as 'sports' and 'stress-busting' to make you feel that little bit more butch about the whole thing. Your therapist will vigorously go to work on those muscles with some deep tissue kneading to ease out knots and tension. Popular unisex options include Indian head massages and the Swedish body massage.
Men's skin is oilier than women's and pores tend to be bigger which means more blackheads. Like it or not, this makes you the perfect candidate for a facial. Get a good deep cleaning if you are exposed to dirt during work or play but don't cleanse your skin thoroughly yourself. Facials can also be effective for shaving rashes or ingrown hairs, or go totally wild and get an anti-ageing treatment. Skin tends to look more tired and dull as we age so unless you're George Clooney, you could probably stand to benefit.
Don't shave right before having a facial as your skin may be sensitive to the oils used. However you don't want too much stubble either so give yourself a once over about 12 hours before the treatment.
The Advanced Spa Man
Those of you who are more comfortable in your own radiant skin can avail of men's aromatherapy, wraps and pretty much anything else off the menu. Grooming of facial and body hair often wouldn't go amiss so brave the wax strip and uncover a new look.
Man-icures aren't just for pink polishes either. Your nails will be given a bit of a tidy up, but the best part is the accompanying massage. This is especially effective for the hand or wrist pains that come with working at a desk or over-doing it on the blackberry.
Whatever you decide to experiment in, a trip to the spa will leave you looking and feeling better. So stop being such a girl about it, man-up and go.