Alternative Hair Removal
By Jessica, June 25, 2012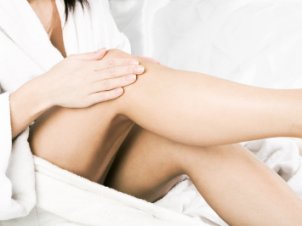 Hair removal is irrefutably the least enjoyable aspect of any grooming routine. Shaving is tiresome, waxing hurts and laser hair removal is expensive. So what's a girl (or guy) to do now that summer is here and it's time to bare some limbs? Below are some of the up-and-coming treatments in the world of de-fuzzing – see how you can shed that winter coat with less time, pain and money.
Sugaring
Sugaring is an ancient form of waxing that uses a blend of sugar and other natural ingredients. The formulation adheres to the hair instead of the skin, reducing the pain involved, and is applied at room temperature, meaning no risk of burns. Water solubility means it is easily cleaned off, and it's also suitable for use on short hair and sensitive areas. The paste can be made at home or pre-made solutions can be purchased for a DIY job. Professional sugaring offers the best results, but trained therapists can be difficult to find.
Sound Waves
Best suited to facial hair, sound wave hair removal is an electric current-free alternative to electrolysis. A wand-like instrument is placed over the area to be treated, similarly to electrolysis, but it is sound energy that is used to loosen hairs from the root. There is no risk of burning or scarring, and re-growth is said to be reduced with repeated use. Epil Pro is the best known sound wave hair removal system available in salons, but there are a number of others also on offer.
Threading
Threading is another age-old hair removal method that is currently enjoying a revival. Specially trained practitioners roll and twist thin cotton threads over the area being treated, removing a row of hairs in one go. Compared to tweezing, it is faster and allows for straighter lines in eyebrows. It can also be used to remove other facial hair, but is not suited to larger areas. Done properly, threading should be relatively painless and is unlikely to irritate. It's also highly sanitary as nothing put disposable thread touches the skin.
Mechanical Epilation
Mechanical epilators for at-home use are rolled across the skin to remove large surfaces of hair in one go. Inside the roller is a coiled spring that acts as multiple tweezers, pulling hairs from the root. Cons are that it can be quite painful, most are only suitable for the legs, hair needs to be a certain length and it can cause irritation. But on the plus side, pain decreases with repeated use, re-growth is slow, it's easier than an at-home wax kit and the investment can mean savings in the long run.
Hair Removal Exfoliating Pads
These exfoliating pads are lined with silicone crystals to buff away unwanted hair in small circular movements. While they feel a little like sandpaper, they're no more painful than an intensive exfoliation treatment. Cheap and reusable, the pads come in at around €5 from Boots. Unfortunately they only really work on longer, finer hairs and can cause irritation. Because of their time-consuming nature they're also not really suited to larger areas such as the legs.