Yon-ka
By Jessica, February 10, 2010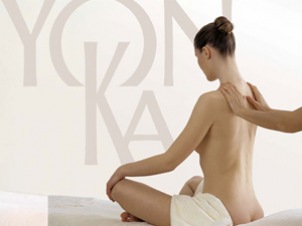 Yon, meaning purifying and energizing river; and Ka, meaning eternity, are the central components to the Yon-ka concept.  The products aim to combine nature and science to regenerate, restore harmony and reconcile body and mind.
The journey towards the creation of Yon-ka products began in 1954, in a small French family business researching the healing properties of essential oils.  Through this, three siblings created the 'Quintessence'- a unique combination of five essential oils – that remains central to Yon-ka products today.
The formula was developed to include extracts from plants of both land and sea and handed over to a daughter and a niece of the founders.  The two women, one a beautician and one a biochemist, expanded the business to the U.S in 1987 and then to the UK and Switzerland.  Finally, in 2003, the first Yon-ka spa opened in Paris.
Today, production is carried out in a filtered air environment which is said to be ten times purer than that in the North Pole.  Farming of products is organic where possible but they say preservatives must be used to maintain microbiological safety.
The quintessence is made up of varying concentrations of lavender, rosemary, geranium, thyme and cypress and is present to some extent in all Yon-ka products.  Those for use at home include cleansers, creams, lighteners, masks, treatments for hands, feet, legs bust and neck; maternity products and sun protection and tanning products.
Yon-ka also have a range for men, consisting of shaving foam, a scrub and a mask, designed to purify and cleanse without drying.
Most of the Yon-ka spa treatments involve aromatic compresses and a warm misting of the five essential oils from the quintessence.  Options for facial and body treatments range from firming and slimming to hydrating and detoxifying.  These come in the forms of body wraps, masks, peels and massages.  The newest of the Yon-ka treatments involves the use of fanned brushes gently grazing the face and upper body followed by a massage and mask, aimed at relieving stress and instilling a sensation of lightness and energy.
Yon-ka products can be found in the Adiluan, Galway; Temple Coutry Retreat & Spa, Westmeath; White Pebble Day Spa, Stillorgan Park Hotel; Ashford Castle, Mayo; Blarney Golf Resort, Cork; Urban Escape Day Spa, Cork; Jule Beauty & Therpay, Malahide, Dublin; The Beauty Suite, Dublin 2 and a number of others around the country.