Why You Should Substitute your Foundation for BB Cream
By Orla, May 30, 2013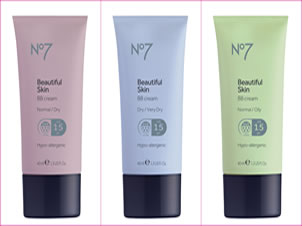 Beauty Balms or Blemish Balms made their debut in Europe in 2011 after proving extremely successful in Asia. They're becoming increasingly popular here in Ireland, but what exactly is BB cream?
The History of BB Cream
BB Cream is essentially a tinted moisturiser with a handful of extra beneficial properties. It was originally developed in Germany to soothe raw skin after cosmetic surgery or facial peels, and it's tint was intended to camouflage any redness.
Benefits of BB Cream
• It contains an SPF to protect facial skin from the harmful rays of the sun.
• It provides coverage to disguise blemishes.
• It moisturises and regenerates skin with ingredients such as hydraulic acids and antioxidants.
• It provides a radiant glow.
While it has been compared to tinted moisturiser, they differ greatly due to BB cream's added beneficial ingredients and it's ability to prevent shiny skin.
BB cream is a must have for summer months due to it's good coverage, yet lightweight feel and easy application. It will leave you with protected, radiant and flawless skin.
Originally developed to benefit highly sensitive skin, it is suitable for all skin types and available in a variety of shades to meet personal preferences.
Top 3 BB Creams on the Irish Market
There is a huge market for BB Creams, but we've selected three of our favourites to make your choice easier.
No7 Beautiful Skin BB Cream

This cream works wonders for tired skin, with it's easy and even application, radiant finish and nutrient-enriched ingredients to banish blemishes. It offers SPF 15 and 5* UVA protection to keep your skin protected and youthful looking this summer.
This product caters for everyone's needs with three different formulas
– Normal/Oily
– Normal/Dry
– Dry/Very Dry
It is available at an affordable price of €15.95 in Boots in two shades, light and medium.
Garnier BB Cream

Garnier BB Cream was the first to hit the market in Europe and although many other brands have become available, it still holds it's appeal at an affordable average price of €14.99.
Mineral pigments promise a flawless finish, while SPF UV 15 maintains protection from the harmful rays of the sun.
Three different formulas available in two shades cater for different skin types:
For Sensitive skin, the BB cream offers a hydrating formula, reducing redness, disguising blemishes and illuminating skin.
For Normal to Dry skin, the BB cream offers a unique mix of active ingredients such as mineral pigments and Vitamin C for it's anti-oxidant illuminating qualities.
For Oily to Combination skin, the BB cream offers an oil-free formula with a matte finish. It's light-weight texture is easily blendable and results in optimal coverage.
Estée Lauder Day Wear BB Cream
This BB Cream, although slightly more expensive at €40.50 in Debenhams, is an excellent product offering high protection, and a little goes a long way.
With SPF 35, this product really protects skin from the damaging effects of the sun.
Available in two shades, it reduces oily complexions while providing an even, sheer, long-lasting finish. It's powerful anti-oxidant complex rejuvenates skin to keep it looking healthy and hydrated.
We recommend ditching the pour-clogging foundation for the hydrating, revitalising benefits of BB Cream this summer.