What is a Spa?
By Jessica, August 25, 2011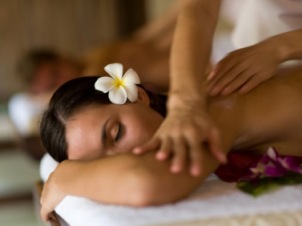 The term 'spa' encompasses a wide range of services and experiences, and can mean everything from a small facial and massage business to expansive destinations of pampering. The word spa was first used as far back as the eras of Ancient Greece and Rome to describe naturally occurring thermal springs. These locations of bathing and relaxation were believed to benefit health and wellbeing, and in this sense not much has changed to date. Spas remain havens of luxury; the only difference today is that they have changed shape and form to fall into various different categories.
Day Spas
This is the spa in its most basic form, which is not to say it is any the less pampering. Usually providing facials, massages and occasionally other treatments, they also often offer salon services such as waxing, manicures and pedicures. Day Spas are the ones you will find in city centres and residential areas, providing local clientele with brief but restorative treatments and repeat appointments. In most cases you will be in and out in anything from 30 minutes to two or three hours.
Hotel Spas
Hotel Spas, as the name suggests, are to be found in many upmarket hotels. Treatment menus can be quite similar to higher end Day Spas, offering services to hotel guests and usually the general public. Facilities can be more extensive than in your average Day Spa, with pools and thermal suites available either within the spa itself or as part of the hotel's leisure centre. Spa Hotels, as opposed to Hotel Spas, are also becoming increasingly common, the former putting the emphasis on the spa with the latter being a spa partnered with an already established hotel.
Destination Spas
Destination Spas are a step up again from Hotel Spas, offering accommodation as part of the spa as opposed to in an adjoining hotel. This creates a rounded spa experience allowing the atmosphere of calm and relaxation to permeate throughout rooms, cuisine and activities. Guests will often be seen walking around the grounds in robes and slippers, attending either for the purpose of relaxation or as a boost to health. Not just about spa treatments, you will also find yoga, pilates and meditation on offer in many Destination Spas.
Resort Spas
Resort Spas can be very similar to Destination Spas, the main distinction being that Resort Spas often focus on health and wellbeing rather than just pampering. Some offer weight loss and fitness programmes while others are popular for detox regimes. Duration of attendance can range from weekend up to seven or fourteen nights, unlike Destination Spas which usually cater to day guests as well as residents. The boundaries between Resort and Destination Spas are probably the most blurred of all, so research your chosen spa for an idea of which category it falls into.
Medical Spas
Medical Spas, or Medi-Spas, offer cosmetic rather than traditional spa treatments. Depending on the nature of the procedures offered, Medical Spas should be run, or at least supervised, by a qualified medical practitioner. Starting with chemical peels, microdermabrasion, laser treatments and the like, some go so far as to offer botox and collagen injections and other minimally invasive enhancements. Medical Spas aren't as common in Ireland as other types of spa, but their presence is steadily growing.