Watsu
By Jessica, November 1, 2012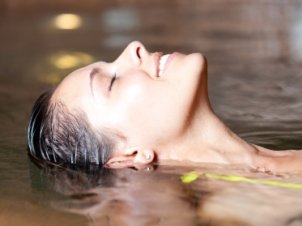 Watsu is a relatively new addition to spa menus, having only been developed as little as 30 years ago. A water-based treatment, it is designed to relax the mind and ease the body as you float in the arms of a practitioner.
Origins
Harold Dull began his holistic work as a student of Zen Shiatsu in Japan. On completion of his studies, he returned to his native U.S to both treat and teach the practice in California. It was here, in Harbin Hot Springs that he began floating his students in water while instructing them in Shiatsu. He was struck by the impact the Shiatsu techniques had on a water-borne body, and in 1980 he officially merged the two in the form of 'Watsu' – a combination of the words 'water' and 'shiatsu'.
Treatment
In a typical Watsu treatment, the therapist cradles the client in warm water and gently moves them through a series of light stretches while applying pressure to traditional Shiatsu points. The person being treated is completely passive in this process, allowing all movements to be executed by the practitioner.
As you float, pressure is alleviated in the body and joints and vertebrae open up. Combined with the lightness of the body, this allows the therapist to manipulate and stretch the limbs with ease and without causing any undue discomfort.
Effects
Watsu is designed to relieve stress and muscle tension with very gentle physical contact. Mentally, the treatment allows the mind to enter a deep state of relaxation and weightlessness.
In fact, Watsu is often suggested as an emotional therapy. The comfort of being gently held by another person is said to nurture feelings of safety and assuage trust issues as you rely on another person to keep you afloat.
Watsu is available from The Spa at Hodson Bay in Athlone and a number of aquatic therapy centres around Ireland.