Vichy shower
By Jessica, June 20, 2008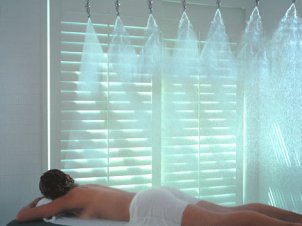 The Vichy shower is a kind of shower where large quantities of warm water are poured onto the body while the person lies on a cushioned wet table, similar to a massage table, but with drainage for the water. The experience of a Vichy shower is like a relaxing massage under sprinklers, which has a therapeutic and healing effect on the body.
The water pressure applied to the body during a Vichy shower is believed to be extremely beneficial as it encourages relaxation and releases toxins from the body. The gentle massage on the body by the falling water increases circulation and encourages a healthy lymphatic flow. The benefits of the water pressure are believed to assist in the relaxation and stimulation of the mind and body. The water poured should be warm enough to suit body temperature.
The origin of the Vichy shower can be traced back to France. Historically, the Vichy shower comprised of a five head shower system. Today, a seven headed shower system is used to provide Vichy showers. The feeling of a Vichy shower can be described as being similar to the effect of falling rainwater. The shower heads can be adjusted to provide either light 'rain' massage, for a more relaxing experience, or a higher pressure to target specific tension areas and relieve tired or strained muscles and boost circulation.
A Vichy shower can be taken alone or along with another body treatment, such as a massage, salt scrub or body wrap to encourage even greater health benefits.