Valentines Ideas: Easy Recipes for Romantic 3 Course Valentines Meal
By Orla, February 13, 2015
Pull out all the stops this year and impress your Valentine with a delicious, home-cooked meal. Thoughtful, intimate and more memorable than an evening in a fancy restaurant!
Starter: Oven-Baked Garlic & Butter Prawns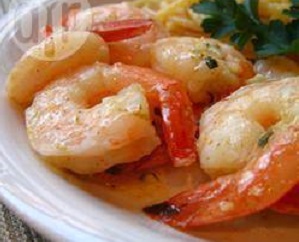 This one is really low on effort and time, but really big on flavour, giving you plenty of time to enjoy your evening together – no one wants to be stuck slaving over the stove.
What You'll Need
250g (9 oz) butter
1.5 tablespoons of Dijon mustard
Juice of half a lemon
2 cloves garlic, finely chopped
a small handful of fresh parsley, chopped
1kg (2 lb) medium fresh prawns – shells removed with tails attached, and deveined
How It's Done
1. Preheat the oven to 230 C / Gas mark 8.
2. In a small saucepan over a medium heat, combine the butter, mustard, lemon juice, garlic and parsley.
3. Make sure to keep a small amount of parsley to sprinkle over the dish as a garnish
4. Remove from the heat when the butter is fully melted
5. Arrange prawns in a shallow baking dish. Pour the butter mixture over the prawns.
6. Bake in preheated oven for 12 to 15 minutes or until the prawns are pink and opaque.
7. Optional: serve alongside freshly baked garlic bread
Main Course: Creamy White Wine & Bacon Spaghetti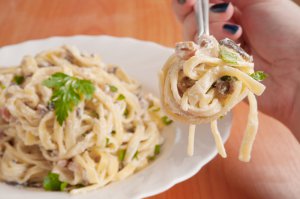 This is basically a more detailed take on carbonara. It's a bit richer and you can prepare it earlier in the day if you need to making it both convenient and tasty.
What You'll Need
6 slices of bacon, cut into small strips
2 medium sized garlic cloves, minced
125g spaghetti (or pasta of your choice)
¼ cup cooking cream cream
½ cup freshly grated padano cheese, plus some extra shaved with a vegetable peeler for garnish
8 mushrooms
1/2 a red pepper
4-5 tablespoons of white wine
1 teaspoon of cornflour to thicken
Fresh parsley to garnish
How It's Done
1. Pre-heat your pan on a medium heat with olive oil, cut your bacon into thin strips and begin to fry gently.
2. Cook pasta according the packet instructions
3. While the bacon is frying, mince your garlic cloves, chop your red pepper  and mushrooms.
4. Once the bacon begins to get crispy, add in your red peppers and mushrooms and fry until softened. Then add in minced garlic, continuously stirring so that the garlic doesn't burn.
5. Pour in 4-5 tablespoons of white wine or a decent splash and cook off the alcohol.
6. Turn the pan down to a very low heat and pour in your cream. While the cream is heating add in your padano cheese. If the sauce needs thickened, mix 1 teaspoon of cornflour with 1-2 tablespoons of water and add to the pan.
7. Stir continuously until you reach your desired consistency.
8. Once the pasta is cooked al dente, drain it and add it to the pan – mix it around around all the pasta is coated in the sauce.
9. Serve with a sprig of fresh parsley and shaved padano cheese
Dessert: White Chocolate Strawberries & Liqueur Cream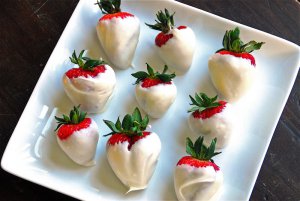 This dessert is totally hassle-free, delicious, romantic and can be prepared earlier in the day. It's a win win!
What You'll Need
Fresh punnet of strawberries
White chocolate to melt
1 cup of whipping cream
½ teaspoon of vanilla extract
2 teaspoons of elderflower liqueur (like St.Germain)
How It's Done
1. Melt your white chocolate in a bowl over boiling water. When it's fully melted roll your strawberries in it and leave to cool on a white plate.
2. For the cream – Whip 1 cup of cream and combine it with the vanilla extract and elderflower liqueur.