Urban Decay All Nighter Long-Lasting Makeup Setting Spray
By Orla, April 6, 2014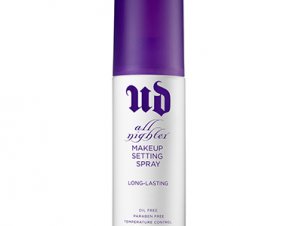 Urban Decay is a makeup brand that describes itself as "beauty with an edge". Founded 15 years ago, this American-originated brand began filling a void in the then play-it-safe pink, red and beige cosmetics industry.
The now international brand has been injecting vibrant colours and creative products into the makeup industry ever since.
All Nighter Long-Lasting Makeup Setting Spray
Like many of us ladies, my makeup refuses to last the day – instead slowly melting away until it looks nothing like it did when I left fresh-faced that morning. So if you suffer from oily skin, I'd wholeheartedly recommend this product.
Having tried and tested all the usual beauty tricks including primers, pressed powders etc. to no avail, I was ready to try something different.
I've been using the setting spray for almost a month now and I have to admit that I've fallen head over heels for the product.
The spray itself is hypoallergenic, oil-free and paraben-free leaving it feeling weightless and refreshing on your face. I kept mine in the fridge for an added element of refreshment.
Each morning after applying all my make-up, I spray it in a 'T' and an 'X' formation over my face once or twice, usually twice.
It claims to make your makeup last for up to 16 hours, and it isn't lying. I was shocked at how well it worked; at the end of a long day your makeup will look just as it did when you applied it.
So how does it work?
The spray actually controls the temperature of your makeup which stops it from melting, fading or setting into fine lines. Because it's a micro-fine mist, you won't even feel it on your skin and it doesn't use that much from the bottle either. At €28 in Debenhams, it's well worth the money.