Transform Dry & Cracked Hands in 60 Seconds
By Jessica, April 17, 2007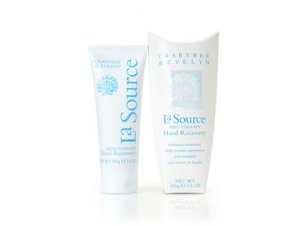 Hardworking hands deserve hardworking hand care. La Source Hand Recovery Cream is a 60-second intensive treatment for dry, cracked and rough hands. It is also the first three-in-one hand cream that cleanses, exfoliates and moisturises. Using a blend of algae extracts, sea salt, macadamia nut and shea butter, hands feel instantly softer and smoother after using this award winning hand cream. La Source Hand Recovery is currently Crabtree & Evelyn's top selling product (one sells worldwide every minute).
The water based formulation used in La Source Hand Recovery is made up of marine & botanical extracts. Algae extract, which is high in amino acids, cleanses and revitalises tired skin, while natural sea salt gently exfoliates dead skin cells. Macadamia nut is a skin softener naturally found in the body that is especially recommended for use on dry skin and shea butter protects hand skin from further moisture loss while restoring suppleness.
For the softest beautiful hands, apply La Source Hand Recovery to dry skin and massage gently into the fronts and backs of hands using a "hand-washing" motion. Rinse with warm water and pat dry.
La Source Hand Recovery is part of the Crabtree & Evelyn La Source collection, a range of bath, body and spa products designed to balance the mind and soothe the skin. Containing nourishing minerals, sea algae, lavender and peppermint, the La Source collection helps you relax and rejuvenate in your own home spa.
Crabtree & Evelyn's La Source Hand Recovery Cream is €20.00 and is available from leading department stores and pharmacies nationwide.